Lady Gaga the performer is all about provocation and surprise, but her first fragrance, Fame, was anything but dramatic. When it came to creating Eau de Gaga, the singer was apparently much more hands-on, and for better or worse, offered plenty of opinions. So, what do we get in the elegant black bottle?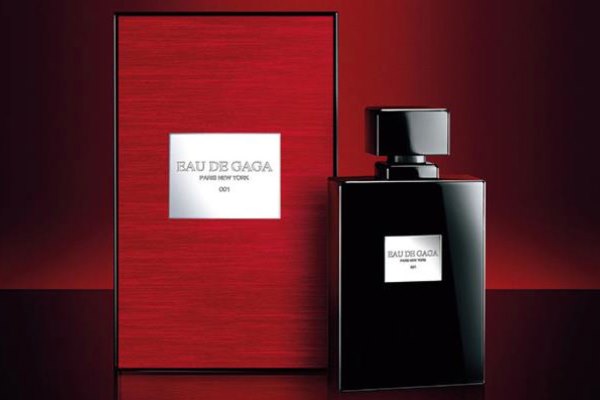 Spray Eau de Gaga liberally on your skin and take a deep inhale. If you expected candies and fluffy musk, then you'll be surprised. It's not sweet. It's not fruity. Eau de Gaga is a green tea cologne, with a big dose of violet. A 21st century CK One, if you will. It has a bright and inviting introduction laced with lots of peppery citrus and green violet leaves. It's sophisticated and polished.
The top notes of Eau de Gaga sold me instantly. While I enjoy all aspects of this fragrance, I especially love the tangy, crisp opening and the way perfumer Ursula Wandel conveyed a fresh, clean feeling.  Like most green tea perfumes, Eau de Gaga was inspired by Bulgari Eau Parfumée au Thé Vert's hazy violet accord, but it has more zest and spice. Worn next to Bulgari, Eau de Gaga holds its own in both sparkle and elegance.
After a while Eau de Gaga hits its stride with a big, juicy note that smells to me like something in between sugar dusted limes and tart green grapes. Clean woody notes and musk complete the picture. While the musk is soft and enveloping, there are enough sharp accents to keep Eau de Gaga squarely in the cologne category. But a very long-lasting cologne, I should add; I easily get a whole day out of two sprays of perfume. From start to finish, it remains sharp, citrusy and refreshing. Just like Lady Gaga promised, it's equally appropriate for both men and women.
There is often a tendency among perfume lovers to dismiss celebrity perfumes for their lack of inspiration and their predictable themes. This, of course, can be applied to most of the fragrance market, not just the celebrity one, and more than anything it reflects the dull way in which brand managers view their clientele.
On the other hand, the same perfumers work on celebrity and high-end luxury brands, and discovering an inexpensive and good fragrance is always a treat. Eau de Gaga will  hit the spot if you want a straightforward cologne and like green tea fragrances, from CK One to Elizabeth Arden Green Tea and Bulgari Eau Parfumée au Thé Vert. Being a Lady Gaga fan is optional.
Lady Gaga Eau de Gaga Eau de Parfum is available at Sephora and other retailers. 30 ml (1oz)/30€, 50 ml (1.7oz)/40€, 75ml (1.7oz)/55€.
Do you have any favorite celebrity fragrances?