Diamond  heists and Gérard Depardieu's tax evasion tactics aside, Belgium doesn't make the front page news often, but the Antwerp fashion scene never fails to be noteworthy. Dries Van Noten is one of the top Belgian designers, and his colorful clothes emphasizing textures and  prints are unusual and eclectic. After walking around his store in Antwerp this summer, I felt as if I had just visited an art exhibit. I then spotted a neat row of Frédéric Malle bottles on one of the shelves and learned that Van Noten is a big fan of Editions de Parfums.
So here we have Dries Van Noten par Frédéric Malle, part of a new initiative to create a series of olfactory portraits of artists and other creative personalities. Such projects are only as  interesting as the people who inspire them, and in this case, we have an exciting collaboration. The perfumer interpreting Van Noten's portrait is Bruno Jovanovic, and the main theme of the composition is warmth.
Given Van Noten's background, the idea was to capture the winter in Flanders. Or rather, the sensation of stepping from the rainy outside into a warm room set for tea time–black tea, speculoos and sugar tarts. Since tea with speculoos is one of my favorite panaceas against the soggy Belgian weather, I was curious to see how Malle and Jovanovic would interpret this concept.
The result smells much less sweet and sugary than you'd expect. Dries Van Noten's perfume is smooth like melted chocolate and rich like whipped cream, but you won't smell of Belgian waffles topped with cherries, or anything edible for that matter. The fragrance uses Indian sandalwood*, and it smells simply decadent–rosy, creamy, warm and opulent. Add to this a lush jasmine note, and I'm in Rajasthan, rather than Antwerp, but this is a wonderful fantasy in itself.
The sweetness of vanilla and toasted almond is balanced out by the citrus and earthy violet notes. The hint of something savory is an accent that shouldn't work but does. The first impression of Dries Van Noten when I spray it on my skin is a classical oriental a la Guerlain Shalimar, where citrus is used to cool down the rich woods and vanilla. But as I wear it longer, it becomes more floral and musky. The perfume reminds me more of the violet tinged woods of Serge Lutens Bois de Violette than of caramelized sandalwoods like Lutens's Santal de Mysore or Guerlain Samsara.
For all of its richness, Dries Van Noten is a surprisingly low key fragrance. Denyse of Grain de Musc noticed it as well and observed that she has found "its sillage surprisingly introverted despite several spritzes." It lasts for hours, and for days on fabric, but the projection is minimal. I doubt I will purchase a full bottle once my sample runs out. While I usually don't mind subtle perfumes, in this case, a bigger aura would have been great.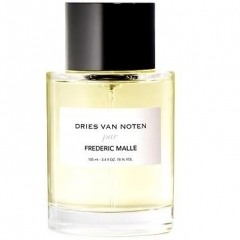 Dries Van Noten par Frédéric Malle includes notes of lemon, sandalwood, jasmine, musks, saffron, and vanilla. It launched on February 15th worldwide and in the US, it will be available starting April. 50ml/$185 and 100ml/$265.
*The sandalwood used in Dries Van Noten is santalum album, an Indian variety of sandalwood grown in Australia by a company called TFS, a little tidbit I picked up thanks to the French Society of Perfumers.
Photography by Bois de Jasmin
Sample: my own acquisition