Narcissus is a flower that doesn't smell floral. In general, the perfumery palette abounds in aromatics that play tricks on the senses. For instance, an iris note in fragrance smells more of carrots than of blossoms. Patchouli, a leaf, smells like woods. And so on. Narcissus, however, is one of the most intriguing ingredients. If you expect petals, April showers and gauzy lightness, you'll be in for a surprise.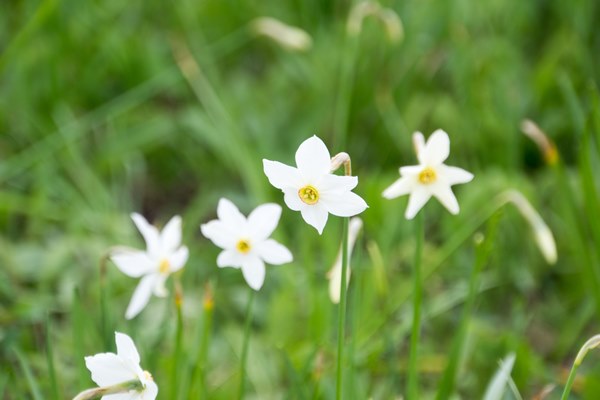 On its own narcissus absolute smells of woods and leather and has a facet reminiscent of damp hay. If you let it develop on a blotter and sniff it the next day, you'll notice caramelized spices–cinnamon and clove–and a hint of musk.  It's a powerful material and it often plays the role of a supporting player in the composition, lifting up the delicate floral or citrus accords or else accenting the woods and animalic notes. Guerlain's Vol de Nuit is one of the best examples of narcissus in classical perfumery.
Several years ago perfumer Anne Flipo visited Lozère during the flower harvest, and she was so fascinated by the scent of the narcissus that she created a series of fragrances inspired by this blossom, including a limited edition called Fleur de Narcisse. It let narcissus take center stage, with few other elements distracting from its dark, angular beauty.
This year, L'Artisan Parfumeur released Flipo's creation, Mont de Narcisse. It's a  different fragrance from Fleur de Narcisse, because the note is more blended and has more layers. Flipo allows narcissus to unfold in all of its dark beauty, but she augments each of its facets, making the note seem even deeper and richer.
Mont de Narcisse opens on a vibrant accord of pink pepper and cardamom, which brighten up the spicy nuances of narcissus. The effect is not fiery, but gently smoldering, with a clear citrusy note. Since it's transparent, you can glimpse the leather facets of narcissus almost immediately, and Flipo cleverly adds osmanthus, another floral note that approaches leather, to highlight the illusion of touching suede.
The tangy, spicy leather lasts as long as the perfume–and on my skin, it's several hours. The other main component of the composition is wood and amber, creamy and smoky, spicy and caramelized. Given its lack of sweetness, Mont de Narcisse will appeal to those who like chypres. It will also make a great perfume for a man. After all, Vol de Nuit makes one of the best masculines for someone who's looking for a fragrance off the beaten track. Among other things, narcissus is a chameleon.
In sum, Mont de Narcisse is a fragrance to try for those who like their flowers dark and their leather soft. It conveys perfectly the duality of narcissus, a delicate blossom with a brooding soul.