If you're a fan of citrus colognes, you soon discover nuances in this effervescent perfume genre. Citruses can be classically austere (Hermès Eau d'Orange Vert), sexy (Thierry Mugler Cologne), exotic (Guerlain Eau de Cologne Impériale), or impeccably elegant (Thirdman Eau Moderne). But if you enjoy colognes only when the mercury levels rise and anything else seems too heavy, they all may smell, well, lemony. That's why the new Annick Goutal cologne trio–Eau d'Hadrien, Néroli and Vétiver–is great for those who are not sure what they like, but are curious to learn more. It has three distinctly different scents which are easy to wear all year round.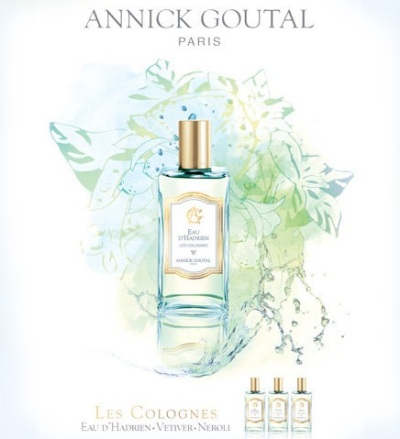 Cologne collections are nothing new, of course. Hermès has one, Atelier Cologne made its name by blending all sorts of things with citrus, and half of L'Artisan Parfumeur's fragrances can be worn as fresh colognes. The simplicity, on the other hand, is what I enjoy about Annick Goutal's play on the lemon, orange blossom and vetiver themes. The lemony Eau d'Hadrien smells zesty. Néroli is a mass of white petals. Vetiver smells of driftwood and sea breeze. All would fit equally well for both men and women. All three are well-crafted, but of course, I have my favorites.
Eau d'Hadrien
All three fragrances  have already been present in Goutal's collection, but their cologne versions are different from the originals. For instance, Eau d'Hadrien's sunny freshness is muted as it's made brighter and more pastel-toned. The bracing sharpness of lemon is more like a soft murmur, with a strong accent of orange blossom giving the cologne a soft touch. Everything about it is impeccable–the quality of the ingredients, the execution, the graceful balance, but I admit that I miss the exhilarating vibrancy of the original. Moreover, the cologne lasts for all of 30 minutes.
Vétiver
Vétiver, on the other hand, is my favorite from the trio and currently high on my wishlist. The original Vétiver is one of my top favorites for its unexpectedly salty, briny richness. Most perfumers interpret this fragrance note as damp and earthy, reminding us that vetiver essence comes from its roots. Isabelle Doyen, Goutal's perfumer, takes it to the seaside. It smells of sunwarmed skin, sand and salt encrusted seashells that you find in your pockets months after your vacation. The cologne interpretation removes the drama and dark tones of the original and makes it gauzy and delicate. The quality of vetiver in this cologne is excellent, and it has a wonderful tenacity.
Néroli
I've used up a bottle and a half of the original Néroli, which given the numerous ways with which I can scent myself says something about my love for this elegant orange blossom. The cologne version is fetching too, although it's slightly less tenacious than the Eau de Toilette. It smells exactly like a cup of café blanc, a Lebanese orange blossom drink. You can almost taste the honeyed orange flowers on your lips. A pale stroke of dry woods anchors the delicate petals in place, and from top to bottom, Néroli smells very natural. It's not as abstract and elegant as Serge Lutens Fleurs de Citronnier, but I prefer its romantic softness to the green richness of Atelier Cologne Grand Néroli.
Now, it's up to you to pick your fancy.
Annick Goutal Colognes Eau d'Hadrien, Néroli and Vétiver are available at Annick Goutal boutiques and counters. 200 ml, 135 €, a set of three colognes (50 ml each) is 135 €. The colognes are packaged in the new style bottles, which look nice, but a tad too plain.
Sample: my own acquisition