Givenchy the couturier was catapulted into stardom by his work with Audrey Hepburn. Their partnership resulted in one of the most distinctive wardrobes in fashion history, from the embroidered gown of Sabrina to the little black dress of Breakfast at Tiffany's. Equally important was Hepburn's role in making Givenchy the perfumer. L'Interdit was the first Givenchy perfume, and whether Hepburn wore it or not, she claimed it as her signature fragrance.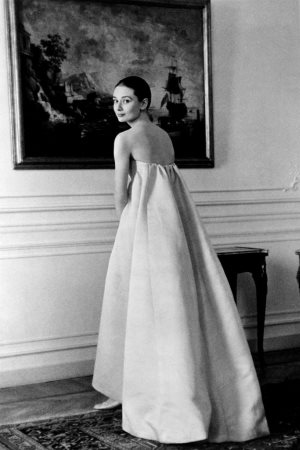 The original 1957  L'Interdit was a floral aldehydic with enough elegance to make one feel dressed up, even if you wore only pyjamas. Think Chanel No 5, but soft, warm and with a delicious strawberry note.
I say was, because in 2005 Givenchy reformulated it. The change was done by perfumer Aurelien Guichard, and it made the fragrance less aldehydic and starchy, but also simpler. Still, as far as updates go, it was decent in that it retained the character of the original. You can read my more detailed review, in which I compare the original and the 2005 version.
This year Givenchy once again tinkered with L'Interdit. I never figured out what frightened actress Rooney Mara who fronted the marketing campaign, but I had my own fears. I was worried that the new L'Interdit will have nothing of the original.
I wasn't entirely wrong. The new formulation made L'Interdit into a fruity tuberose in the spirit of Juicy Couture. Mind you, it's a very nicely done, cheery tuberose, but it smells nothing like the original perfume Audrey Hepburn might have worn. 
To be fair, Givenchy doesn't promote it as such, and the whole idea behind the relaunch is to update the brand. I also realize how difficult of a task it is, because the original L'interdit, being powdery and aldehydic, is the most challenging type of fragrance for contemporary perfume wearers. And alas, it doesn't have the cachet of No 5.
So, I decided to treat L'Interdit for my review as a completely new fragrance. Created by Dominique Ropion, Anne Flipo and Fanny Bal, it's a nicely done tuberose, with a good balance of musky and woody notes. The white creaminess of tuberose is played up by jasmine and orange blossom, with patchouli lending the finish a pleasing depth. The woods and a touch of amber tone down the sweetness of white florals that make up the bouquet, while citrus makes it airy and bright. It would be a daytime perfume that doesn't demand too much of its wearer and yet lasts well.
In a word, L'Interdit is charming. If you enjoy florals with a woody twist, it's worth trying.