The combination of salt and vanilla is not common in perfumery, despite the ubiquity of these ingredients in modern patisserie. For one thing, salt is a fantasy impression created by certain marine and dry woody notes in fragrances, and its effect is cancelled out by the sweetness of vanilla. Also, when a perfume promises vanilla, we expect warm, creamy and cuddly–a bowl of custard, if you will. L'Artisan Parfumeur Couleur Vanille, however, dares to be different.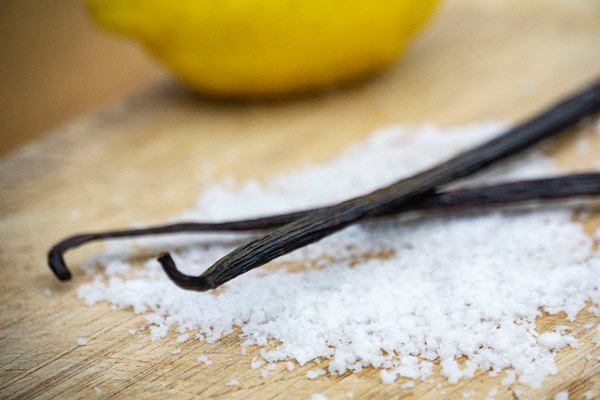 While retaining the creaminess and dark sweetness of vanilla, perfumer Aliénor Massenet, who worked with L'Artisan Parfumeur on this launch, blended fresh floral and salty notes to balance out the richness. The sweet and salt facets give Couleur Vanille its personality, right from the top notes.
With time, the saltiness recedes to the background, letting the warm woods and musk take its place. The bittersweet immortelle continues the salty-savory theme of the composition. Vanilla, however, doesn't leave center stage, and as the perfume dries down, it becomes darker and spicier. Plain vanilla it is certainly not.
Couleur Vanille has an enveloping character, with a lingering sillage. I like the opening chords, but the drydown with its melange of woods, balsams and vanilla is the best part. I've taken to spraying my scarves with the fragrance to enjoy the effect even a day later.
Expecting a high-calorie sugary blend, I was surprised, pleasantly, by the relative lightness of Couleur Vanille. This is a gourmand fragrance for those who dislike gourmands. On other hand, the perfume won't please those who are lukewarm about marine notes. While the impression is subtle enough and is essential to the composition, the iodine saltiness and sea breeze freshness are clearly present.
Couleur Vanille is lighter on caramel than either Serge Lutens Un Bois Vanille or Annick Goutal Vanille Exquise. It's sweeter than the marvelous Hermès Eau des Merveilles, but the salty notes are as equally pronounced.
Extra Reading: Salty and Briny Notes in Perfumery
L'Artisan Parfumeur Couleur Vanille includes notes of bergamot, fleur de sel, freesia, immortelle, vanilla, cashmere wood, tolu balsam, musk.  Available at L'Artisan boutiques.
Photography by Bois de Jasmin