When I first heard about Guerlain Rose Nacrée du Désert, which is part of the Les Déserts d'Orient collection, along with Encens Mythique d'Orient and Songe d'Un Bois d'Été, I was only mildly curious. Had it been a part of the regular collection, I would have been more proactive in seeking out a sample, but Les Déserts d'Orient is sold at only a few boutiques, and I dislike falling in love with something this exclusive. (Can you tell where this is going?)
To make a long story short, a sample found its way to me thanks to a kind reader, and whenever I have been wearing Rose Nacrée du Désert, I've been experiencing minor scented epiphanies. I may be doing something as unglamorous as picking up dry cleaning, when I suddenly catch a whiff of dark roses clinging to my skin. It's an instant dose of chic, and on most days, I desperately need it.
I loathe recommending an expensive, "available only in Paris" type of perfume, so let's take a short quiz. Are you a Guerlain addict? Are you a fan of classical symphonic fragrances? Do you like your roses dirty? Do you enjoy classical Carons in all of their dark mossy glory? If you answer yes to all of these questions, then you're a good candidate for Rose Nacrée du Désert.
True to its name, Rose Nacrée du Désert (Pearly Rose of the Desert) has a big red rose in its heart, but decent roses are a  dime a dozen on perfume counters, and this perfume is much more than just a pretty blossom. Layered with musky leather and patchouli, Rose Nacrée du Désert is full of interesting twists. The first surprise comes right at the top when a wave of shimmery aldehydes–they smell like candle wax and starched linen–rises up only to fizzle out and reveal a tangy, bright rose. A few minutes later, under the hot breath of sweet clove and pepper, the rose darkens, wilts and becomes dry and smoky.
The drydown is the best part of Rose Nacrée du Désert. On the one hand, it's a classical mossy patchouli touched by rose, but the saffron and musk give this Guerlain a sultry quality. The mossy layer is cool and powdery, reminiscent more of Caron Nuit de Noël with its dark undercurrent, rather than of the typically sweet and plush Guerlains à la Shalimar and L'Heure Bleue.
In contrast to other bombshell dirty roses like Agent Provocateur, Frédéric Malle Portrait of a Lady or Etat Libre d'Orange Rossy de Palma, Rose Nacrée du Désert is much more versatile and subtle. Perfumer Thierry Wasser might have been inspired by the Middle East when he created Rose Nacrée du Désert, but this rose in the dune fantasy comes to us by way of Champs-Élysées. Rose Nacrée du Désert is understated and nonchalant, rather than in your face glamorous.  It's sexy in the same way that a fitted black shift dress can be irresistible. For this reason, it wears like a perfectly tailored jacket and it feels haute couture all the way. Too bad that Guerlain chose to limit the distribution of this beauty.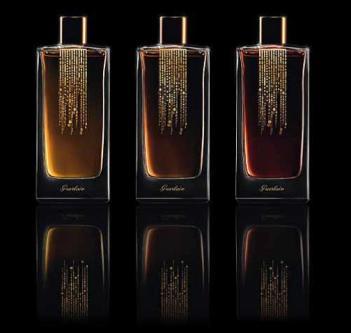 Guerlain Rose Nacrée du Désert is available at the Paris Guerlain flagship store and Haute Parfumerie Place Vendôme in Belgium, both of which ship internationally. Edit (thanks to Katie): Harrods and Selfridges in London carry this line as well. Since Les Déserts d'Orient perfumes were originally created for the Middle Eastern market, the fragrances are also sold in the United Arab Emirates and other Middle Eastern locations. 75ml, 190 euros.
Image: Catherine Deneuve, Helmut Newton, Paris, 1976