Elisa discovers another underrated gem and white floral beauty in Carolina Herrera's 1988 perfume. But don't say that you haven't been warned about its big sillage and quintessential 80s character.
My mother has never worn perfume, so as a young girl I had to look elsewhere for scented role models. One was my grandmother, who introduced me to the wonders of White Linen. Another was my best friend's mother, a beautiful, petite brunette who always entered the room in a cloud of womanly sillage. Her weapons of choice – I remember seeing the bottles on her vanity – were the original Escada and Carolina Herrera.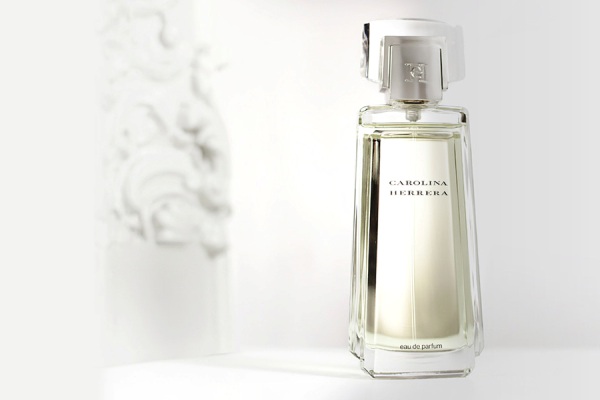 They both seemed impossibly glamorous and "grown up" from that vantage point. But in my first year of full-on, post-rabbit-hole perfume mania, I remember realizing with a jolt that, as an adult woman myself now, I am free to drown myself in Carolina Herrera if I choose to. Not having smelled it in years if not decades, I picked up a small bottle of the EDP at a discount store (in the classic polka-dot box). I got it home, sprayed it on, and smiled in recognition: it hadn't changed.
Carolina Herrera shows its age right away. Created in 1988, it's very much in the over-the-top style of the late '80s and early '90s, a voluptuous white floral sweetened with a big hit of peach and the banana-jam note of ylang-ylang. The initial impression is incredibly perfumey – I detect aldehydes. Then you notice the interplay of textures between the tuberose (creamy yet cool and mentholated) and the jasmine (warm and a little furry). The ambery woody base showing through reminds me of Givenchy Amarige and all its descendants up to Amouage Ubar and Thierry Mugler Alien and Michael Kors Michael – but Carolina Herrera came first, so it may have been the first in this family line. It still stands out from more contemporary iterations thanks to a distinctive animalic angle – that old-school horsey jasmine and indispensable civet.
There's no way to wear this perfume subtly – it's big and it trails. Once, before I was familiar with how it wears, I made the mistake of spraying Carolina Herrera on before work. With peachy tuberose billowing over the walls of my cubicle, I was mortified all day. Now I consider it strictly an outdoor perfume. At a garden party or summer wedding, its indulgent femininity is as fun a costume as a flouncy dress.
Carolina Herrera contains top notes of apricot, bergamot, green notes, orange blossom, and rosewood; middle notes of honeysuckle, tuberose, hyacinth, jasmine, ylang-ylang, lily of the valley, and narcissus; and base notes of sandalwood, amber, musk, civet, oakmoss, vetiver, and cedar. It's available at Macy's for $72/1.7 oz (and easily found at discounters).