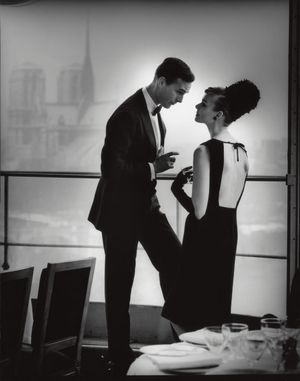 My perfume collection is my wardrobe. The only difference is that while I would not pick a ball gown for an average day at the office, I can easily select a lush and dramatic perfume, an olfactory haute couture equivalent like Guerlain L'Heure Bleue or Chanel Coco, if it suits my mood that particular morning. Yet, the fragrances that constitute my staples are often more along the lines of a little black dress: versatile, elegant, with enough subtlety to make a great day time perfume and plenty of character to make the transition into the evening.
What is your perfume equivalent of a little black dress (for men, a perfectly tailored blazer or a crisp white shirt)? What fragrance makes the best morning into evening transition for you?
My favorite little black dress is undoubtedly Christian Dior Eau Sauvage. Its composition of citrus and basil over a smooth, luminous woody base never fails to make me feel elegant, whatever my outfit choice for the day. I also appreciate the understated allure of Guerlain Après l'Ondée, Love Chloé, Serge Lutens Bois de Violette, Chanel 28 La Pausa, and Frédéric Malle Le Parfum de Thérèse, which are among my favorite daytime fragrances, my talismans guaranteing a good start for the day.
Photography by F.C. Gundlach, Siv Benno and Pierre Hogard, cocktail dress by Pierre Cardin, Paris 1962.