Hot chestnut honey, smoky leather, waxed woods… This may sound like a perfume description, but what I'm talking about is tea, and to be more precise, Yunnan d'Or tea from Le Palais des Thés. As I sniff the amber colored liquid in my cup, I get a bright and sparkling top note of sticky buds and caramel, but a sip reveals a voluptuous leathery richness. It's a revelation. I knew that tea, like wine, chocolate and other complex flavors, has numerous layers, but to experience a perfume pyramid in a tea cup feels exciting.
I've been a fan of Le Palais des Thés tea for more than 10 years, ever since I discovered their velvety and seductive Pettiagalla, a black tea from Sri Lanka, at a small tea shop in San Francisco. This French tea importer has made an impressive reputation for itself thanks to the top quality of its teas. François-Xavier Delmas, the founder of Le Palais des Thés, travels around the world with his team and selects the most interesting varieties and he documents his adventures at Discovering Tea, his tea traveler's blog.  As with wine, the quality of the soil and the weather can affect the tea's flavor, and such attention to detail insures the constant supply of unusual blends.
But what made me even more curious about Le Palais des Thés was their famous Tea School.  L'Ecole du Thé is run by Carine Baudry, an ISIPCA trained nose and a good friend of perfumer Mathilde Laurent whose dark and moody Cartier XIII La Treiziéme Heure was inspired by smoky black teas.  My search led me to the Le Palais des Thés showroom in New York, where I was given a brief lesson on brewing and tasting tea by Aurélie Bessière, president of the company's American branch. While systematic courses like those offered to tea lovers in Paris aren't yet available in the States, the company will organize a tasting by request and is planning to expand its course offerings. I certainly hope that this happens soon, because the classes about specific types of teas and tea and food pairings—Aurélie mentions that their tea and cheese course has been very popular—as well as the opportunities to travel to tea plantations sound fascinating.
I learn very quickly when we start tasting tea that the proper way of brewing tea is crucial to experience the full flavor profile, but there are several ways to do it, and the process isn't particularly intricate. Dark teas like Yunnan or Qimen that tastes of malt and autumnal leaves can take up to 5 minutes of steeping in hot water, while the more delicate white and green teas require a lower temperature. In China, however, the tea leaves are sometimes covered with water and given a short steep and drained into a cup, before the procedure is repeated. This way, each cup of tea tastes differently—the first one will capture the floral top notes, the second will reveal the fruity heart, while the subsequent ones capture the vegetal or woody aromas. Full steeping, by contrast, presents the complete spectrum of tea flavors in one sip.
For me Aurélie brews Yunnan d'Or following the standard practice—2g (approximately 1.5 teaspoons) of tea steeped for 4 minutes in 100ml of almost boiling (195F) water to fully extract the flavor. She recommends avoiding metal tea balls, which prevent leaves from unfurling and releasing their aromas. Le Palais des Thés packaging indicates the appropriate time and water temperature for each tea, but as Aurélie mentions you can also experiment to create lighter or darker blends. She deftly drains a small white tea pot into the cup and encourages me to take a sip, but not to swallow it right away. As I roll the liquid around my mouth, I notice more flavors—a walnut shell, a hint of caramel, a dried rose. The aftertaste is tannic and rich, and I can distinctly taste the woody notes that make me think of polished wood.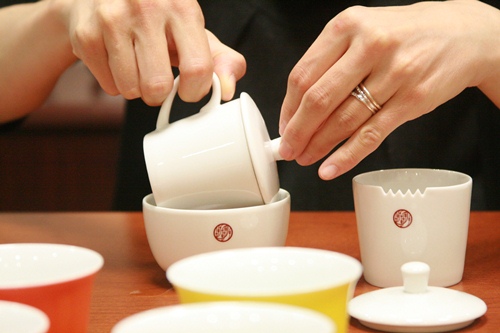 When we sample Aiguilles d'Argent, a white tea made from fine tips and buds, the experience is completely different. Called Silver Needles or "Yin Zhen" in Chinese, this tea has an exquisite flavor of ripe green grapes and a sheer jasmine finish. The perfume rising from the cup is so lovely that I'm not sure if I want to drink this tea or dab it on my wrists. Beautiful and delicate teas like Aiguilles d'Argent are best drunk on their own to fully enjoy the flavor, but Aurélie mentions that more robust teas pair perfectly with food. Smoky tea infusions can be used in marinades for fish or meat. Dry leaves can be crushed with salt and pepper and used to encrust a steak before grilling. Olive oil infused with tea leaves is a rich accent for salads and dressings. "You can even use dark tea instead of other liquids in your chocolate cake recipes," mentions Aurélie, and I begin to imagine the possibilities of chocolate mousse whipped with rose tea or red velvet cake flavored with malty Chinese Qimen blends.
In the days following my tea lesson, I apply my learning to everything in my tea cupboard. I even discover the pleasant tannic notes in Lipton that I save for making Indian style chai. The Japanese bancha made from coarse twigs and leaves has the perfume of an antique wooden box and barnyard. Then I reach for Hermès Osmanthe Yunnan in my perfume cabinet and have an epiphany—under the apricot skin and jasmine sweetness of osmanthus, I notice the same soft leather and waxed woods note that attracted me to Le Palais des Thés's Yunnan d'Or. I believe that I have come full circle in my tea and perfume quest.
Photography by Bois de Jasmin, all rights reserved.