Several years ago I walked around an exhibit devoted to Marlene Dietrich's collection at the fashion museum in Paris, The Musée Galliera. Among her famous pant suits, feather dresses and sexy lingerie (you had to look through a peep hole for a glimpse of her lacy underthings), were bottles of  cosmetics and tanning oils. One was labelled rose, and another–jasmine.  I don't remember who made them or what the bottles looked like, but the image of Dietrich stretching out her gorgeous long legs, her glistening skin catching the fine granules of sand, is what surfaces in my mind whenever I hear the star's name. I can almost smell the rose tanning oil and salt on her warm skin.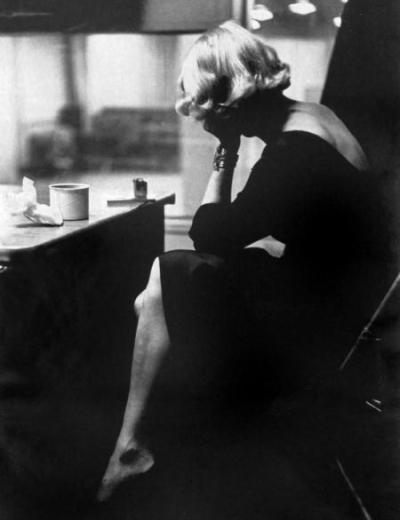 I don't know if in creating La Fille de Berlin, the dream team of Serge Lutens and Christopher Sheldrake thought about Dietrich, and I have never visited Berlin to understand their source of inspiration completely. For me though, it's a perfume that I imagine Dietrich wearing. It's beautiful and surprising, but with a dark side. A classical Lutens, in other words.
Although the image of Dietrich looms large as I smell La Fille de Berlin, the perfume doesn't feel retro. It's a deep red rose that dries down to a lusty animalic drydown and takes you on a whirlwind journey along the way.  I love its explosion of crimson rose petals, which smell almost sinfully rich with their hint of overripe blackberries. (In the less poetic industry parlance, it's called smelling money–a rose like that requires a generous budget.) Just like some roses can smell of violet, La Fille de Berlin takes a turn towards dark, jammy violets, making a small nod towards Bois de Violette.
A couple of hours later, my skin smells of amber and musk. La Fille de Berlin has an intriguing animalic note that would be untoward and raunchy if the rest of the composition were not so refined and polished. The reference here seems to be Serge Lutens's own Muscs Koublaï Khan (much more so than Lutens's other roses, Sa Majesté la Rose and Rose de Nuit), a rose wrapped into so much musk and civet that it becomes something else altogether. La Fille de Berlin, on the other hand, is much less musk and more rose, and it's well-behaved enough to be worn to the office without raising anyone's alarm. But when you press your wrist to your nose, you notice the naughty and smoldering bits. The impressive tenacity will ensure that you will be aware of La Fille de Berlin for the entire day.
She may be a girl from Berlin and carrying roses, but La Fille de Berlin would be perfect for men as well, especially those who've already experimented with oriental roses like The Different Company Rose Poivrée. It may even be more exciting as a masculine fragrance–warm, suave, irresistible. Either way, for me La Fille de Berlin hits the main criteria of a good perfume–it's memorable, it's beautiful from all angles, and it tells a story.

Serge Lutens La Fille de Berlin is part of the export collection. It's currently available from Serge Lutens's boutique in Paris. It will be sold at Barney's, Aedes, Luckyscent and directly from Serge Lutens in March 2013.
Image (top): Marlene Dietrich, New York, 1952, taken by Arnold, Eve, via chrisbeetlesfinephotographs.com.
Sample: my own acquisition