As a kid I loved munching on unripe plums and apricots that I had picked from the low hanging branches in our garden. This activity was not at all allowed, but as anyone knows, forbidden fruit tastes the sweetest, and I continued to pillage our trees. Imagine my surprise and delight upon discovering many years later that in the Middle East, unripe plums are a special seasonal treat. Since they're starting to become more available at the grocery stores and farmers' markets, I can get my fill without threatening my grandmother's plum harvest.
Called erik in Turkish (and sometimes marked as such at the stores), unripe green plums are in season April through June. They taste intensely tart. Crunchy and hard, they are for lovers of all things sour and mouth-puckering.  They are usually eaten with a pinch of salt, which brings out the delicate sweetness, and they have a faint floral taste. The plums are small, ranging from the size of hazelnuts to large cherries, and if left to ripen on the tree, they turn golden and syrupy sweet.
Besides eating them as a snack, you can add green plums to salads, use them instead of lemon in savory dishes or stew them with meat. I like them in coleslaw. Or I add a handful of plums whenever I make lentil and cabbage soups to brighten up the earthy flavors. Whenever I see unripe plums, I buy at least a couple of pounds and whatever I don't eat raw or freeze to use later, I turn into a tart sauce.
Like Hot and Spicy Cranberry Sauce with Coriander and Fresh Herbs, my green plum sauce is based on tkemali, which is how this condiment is known in Georgia, a country located in the Caucasus region. Tkemali is the Georgian name for the local sour plum, and it can be made with both green and ripe varieties. It's one of the best accompaniments to grilled chicken or meat and a must for lamb kebabs. I also love to smear tkemali on rye bread and add avocado and feta cheese for an open-faced tartine or a more portable sandwich. Either way, it's a vibrant addition.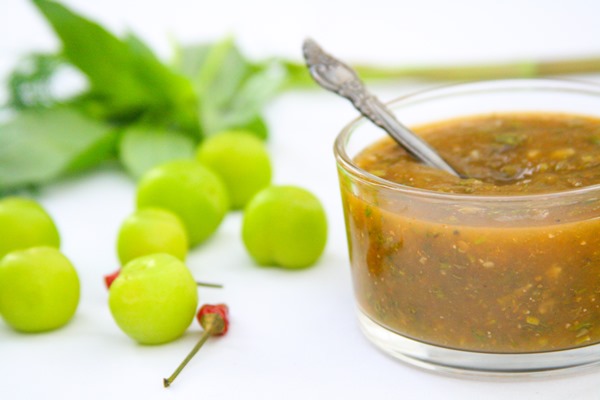 But don't worry if you can't find green plums. In Georgia, tkemali is made with ripe plums as well. Just add lemon juice to sharpen the flavor. You can make the sauce with any tart plums, such as plums that were picked too early. Often that's very easy to find at our supermarkets.
Tkemali, Green Plum Sauce with Coriander and Fresh Herbs
I've given a recipe for a similar sauce using cranberries, and the plum variation uses similar flavorings. The main difference is the way you cook plums. You also don't add any sugar because green plums are less astringent than cranberries.
You can vary the herbs to your liking, but the spicy green note of coriander leaves is especially good with tart plums.
1lb (500g) tart plums
1/2 cup (125ml) water
1 1/4 teaspoon salt
2 finely minced garlic cloves
1/4-1 teaspoon hot chili pepper flakes, depending on your heat tolerance
1/2 teaspoon whole coriander seeds
1/2 Tablespoon minced fresh coriander leaves (cilantro)
1/2 Tablespoon minced tarragon
1/2 teaspoon dried mint
2 Tablespoon lemon juice (optional, if you're using ripe plums)
Toast coriander seeds till they become pale golden and crush to fine powder with a mortar and pestle. This extra step releases coriander's full flavor of burnt orange peel and caramel. But you can skip it and simply add ground, untoasted coriander seeds.
Place plums and water in a medium sized saucepan over medium heat, cover and cook until plums soften enough to be mashed with a spoon, about 15-20 minutes. Put through the sieve and mix the resulting puree with salt. Simmer on low heat for 2 minutes. Add garlic, chili flakes and ground coriander seeds. Cook till garlic loses its raw taste, about 5 minutes. Add fresh and dried herbs (and lemon juice, if using) and simmer for another 3 minutes. Remove from heat. Store in the fridge for a week.
Where to Find: Green, unripe plums are in season April through June. They are available from Turkish and Middle Eastern stores as well as farmer's markets. In New York, they are usually sold at Sahadi's in Brooklyn (and other stores on Atlantic Avenue) and Kalustyan's. I also ordered them from Tulumba.com, my favorite online store for all things Turkish (sign up to be notified when these seasonal treats are in stock). In large European cities, you can find them at well-stocked supermarkets.
Another spring delicacy to look for is green almonds, unripe almonds still in their fuzzy husks. They are eaten whole, with a pinch of salt, and they taste milky and tangy.
Photography by Bois de Jasmin