Last weekend I had a cooking class with Zulfiya Ma Tian Yu of Dungan Food. Zulfiya lives in Bishkek, Kyrgystan, but we managed to overcome the Bishkek-Brussels distance by a combination of video and WhatsApp. Thanks to  modern technology, I've learned the basics of this ancient cuisine. The Dungans are a community of Muslims of Arab-Chinese descent living in Central Asia, mostly in Kyrgyzstan and Kazakhstan. Originating from Western China, where the Dungans are known as Hui, this community has a distinctive identity, amalgamating various cultural influences. Its cuisine is likewise diverse, vibrant–and different from the cuisines of their immediate neighbors.
Imagine the sophisticated seasonings of Persian cuisine, intricate Chinese techniques and the robust Central Asian palette–and you get an idea of what Dungan food is like. There are noodle dishes served with an array of dozens of salads and sauces, dumplings filled with lamb and pumpkin, and paper-thin crepes for wrapping stir-fries of garlic chives and pepper. Each meal is served with plenty of vegetables, and everything is cooked just enough to enhance the natural flavors.
My cooking teacher Zulfiya records and preserves old recipes she had learned from her family, and she's a gifted instructor. She explains the fine details of each preparation so well that after watching her Youtube channel, I decided to try a class. If you speak Russian, I recommend that you take a look as well–and to follow her on Instagram, where she posts stories about the Dungans, their food and culture.
Since resources on Dungan food are few in Russian, to say nothing of English, I'd like to give you a taste by sharing Zulfiya's recipe for a Dungan spice mixture and a summer vegetable salad. No Dungan meal is complete without this brightly colored, refreshing dish. You can use vegetables in any proportion you like and season to your taste. If you prefer more heat, add a hot chili instead of bell pepper. You can also make the salad in advance, but do the final sizzling oil flourish and seasoning just before serving.
In today's world that likes clear-cut boundaries and neat labels, the Dungan community is another example of how diversity and exchange create rich cultures. Their delicious cuisine is one such manifestation.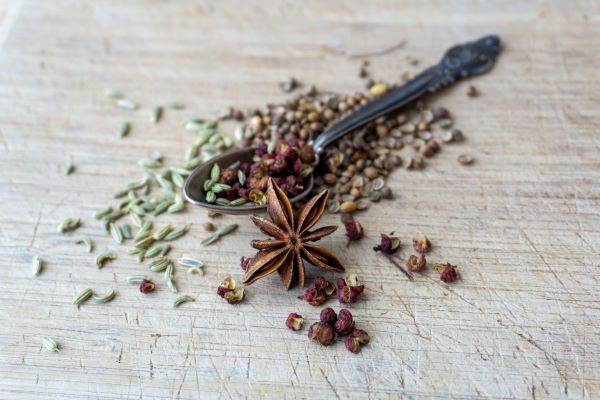 Dungan Spice Blend
Zulfiya says that the Dungans have many variations on this blend, but the basic one includes coriander, Sichuan pepper, fennel and star anise. The only requirement is to have coriander as 40% of the spice blend and the rest is up to you. Below I'm sharing a version that I liked the most, balancing the burnt orange accent of coriander against the floral sweetness of star anise and the numbing spice of Sichuan pepper.
4 teaspoons coriander seed
1 star anise
1 teaspoon Sichuan peppercorns
1 teaspoon fennel seeds
Put coriander seeds into a dry pan and saute on medium heat till fragrant, 4-5 minutes. This is similar to my CC powder recipe. Coriander will change color slightly. Remove from the heat, transfer into a bowl and let cool. Grind with the rest of the spices. Store in an air-tight jar. This amount makes less than 1/4 cup, but it's a richly scented blend, and a little goes a long way.
How to Use
Season fresh salads (see the recipe below)
Marinated meat before grilling
On roasted vegetables. It's excellent on cauliflower and zucchini.
Sprinkle it on roasted potatoes and add a handful of herbs and a squeeze of lemon juice.
Try it on grilled tomatoes and onions.

Dungan Layered Vegetable Salad
This is a simple combination of cucumbers and tomatoes, but what makes all the difference is the style of cutting, layering and seasoning.  Even if you don't speak Russian, you can see Zulfiya's video lesson on Youtube, in which she shows how she slices vegetables. Each technique is designed to retain freshness and crunch. Even if you make this salad in advance, it will not turn soggy (but I do recommend waiting to sizzle it with oil until the last minute.)
The quantities of the ingredients are entirely up to you, the list below is only a template.
1 cucumber
1 tomato
2 scallions
cilantro
1/4 red bell pepper or medium-hot chili pepper
2 garlic cloves'
1-2 Tablespoons vegetable oil
Seasonings: Dungan spice blend or black pepper, salt, vinegar (Chinese black vinegar is especially good here).
Cut cucumber into quarters lengthwise and then cut each quarter at an angle into thin, 1-1.5″slices. Cut tomatoes into quarters and then slice each quarter at an angle, likewise thinly. The scallions should also be cut at an angle into 1″ strips. The bell pepper is minced or finely julienned. Cilantro is chopped and the garlic is minced. Layer the vegetables in the following order: cucumber, tomato, scallions, cilantro, red pepper, garlic. Sprinkle Dungan spices or black pepper on top of the garlic. When ready to serve, heat the oil until smoking and immediately pour it over the garlic and dry spices. The oil should sizzle. Add salt and vinegar to taste and mix.

How to do the sizzling oil flourish:
Photography by Bois de Jasmin