The 10th century Persian philosopher and scientist Avicenna is credited with many contributions to astronomy, geography, psychology, logic, mathematics, and physics. He also found time to delve into perfumery and devised methods to extract essential oils, experimenting on roses. If Avicenna were to step into a fragrance lab today, he would orient himself quickly enough–modern perfumery is a curious amalgam of state-of-the-art science and traditional techniques. For instance, rose oil is prepared in much the way as in Avicenna's time through the process of steam distillation.
Even older than rose oil is rosewater, an ingredient with a history predating Avicenna. Lebanese food writer Barbara Abdeni Massaad, whose award winning cookbook Mouneh explores the traditions of preserving fruit, vegetables and flowers, includes a section on making rosewater. "Yes, the distillates from roses and orange flowers continue to be made in villages," she commented on the vitality of the tradition. "Older people still believe that homemade is best."
First, the rose petals are placed in the lower part of an alembic and covered by water. Then, the contraption is sealed with a paste of ashes and flour and cold water is added to the top of the alembic. Heated slowly, the rose petals give off their essential oil and the watery substance (hydrosol) that remains behind after the essence is removed has a rich scent. This is rosewater. It is used to flavor puddings, candies and savory dishes, and in the Middle East a flask of fragrant liquid is offered to guests to freshen up their hands and faces. More than a delicious aromatic, rosewater is also part of a culture and is believed to have medicinal properties.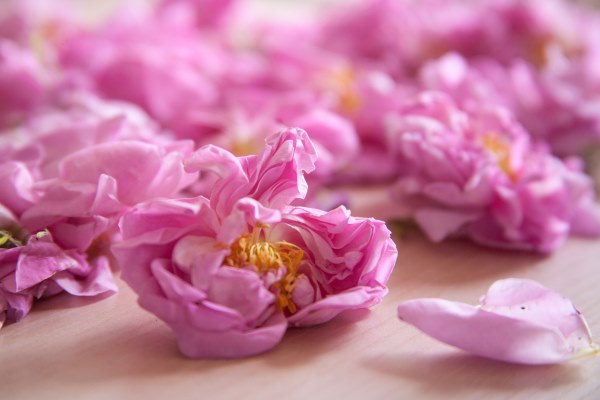 When I recently visited Givaudan, one of the leading fragrance and flavor companies, I noticed an ingredient called Rose Natsource® Extract. Some quick research revealed that to obtain it, rosewater is treated one more time to retain the volatile elements, which are then reconstituted into the novel product. In contrast to the heft and richness of essential oil, the rosewater extract smells citrusy and fruity. Avicenna doubtless would find this blend of old and new intriguing.
Givaudan is not the only one in on the act; International Flavors & Fragrances has a material called Rose Water Essential. And so as more companies use modern technology to recast traditional materials, rosewater extracts are finding their way into perfume formulas. They are also significantly less expensive than classical rose oils and absolutes, and even a small amount can add richness and curves—the French call it "gras", fat—to a composition.
One illustration is Arquiste's Fleur de Louis, which uses a touch of rosewater in its jasmine laced bouquet. Rose is just an accent in this plush blend of night blooming flowers, but its radiance lingers. Layered onto dark woods, the flowers have a baroque opulence, but even in the powdery drydown, they remain bright and clear.
Other fragrances play with the idea of rosewater freshness by contrasting the floral notes with green, leafy accents. Perfumers may use the rosewater extracts in this context or create their own fantasy accords by combining materials that evoke the delicate aroma of rosewater. For instance, Histoires de Parfums' Vert Pivoine and Cartier's Eau de Cartier Goutte de Rose take rose into a crisp and cool direction. Eric Buterbaugh Florals's Sultry Rose adds passion fruit and pepper, with the end result being more coquettish than smoldering, but nevertheless charming.
Massaad recommends adding a splash of rosewater to black coffee, and following her advice I have been enjoying many rose perfumed mornings. Since Avicenna prescribed rosewater to strengthen the heart, it feels like a perfect way to start the day.
Mouneh: Preserving Foods for the Lebanese Pantry by Barbara Abdeni Massaad, winner of the Gourmand Cookbook Award 2010 and Prix de la literature Gastronomique 2010.
Do you use rosewater? Do you have fresh rose scents?
Extra reading: 10 Ways to Use Rosewater
Photography by Bois de Jasmin