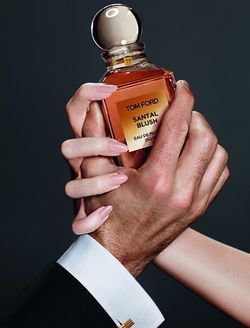 Star rating: 5 stars–outstanding/potential classic, 4 stars–very good, 3 stars–adequate, 2 stars–disappointing, 1 star–poor.
Is it possible to create a stunning sandalwood fragrance without using Indian sandalwood? As I smell more and more sandalwood dominated new launches, the answer to this question increasingly appears to me as negative. There exists nothing that duplicates the fragrance of Mysore sandalwood, which smells more of flowers and fresh cream rather than of dry woods. Tom Ford Santal Blush is an attempt to construct a classical sandalwood accord, using Australian sandalwood, spices and resins. While it does not convey the mellifluous character of true sandalwood, it presents an elegant twist on the woody theme reminiscent of Diptyque Tam Dao.
The opening chord of Santal Blush is the least appealing part of the fragrance for me—metallic, dry, with resinous hints of incense and cumin. As time goes on, the sharpness becomes more muted, and the sweetness of cinnamon and rose unfolds gently to soften the initial impression. The sandalwood undulates very slowly, filling out the spaces of the composition with its dark creaminess. It is not the enchanting rose syrup and milk sweetness of Indian sandalwood, yet it is very appealing nonetheless. There is a suggestion of oud and leather in the drydown, which together make this woody fragrance dry and smoky.
Just like Jasmin Rouge, Santal Blush smells expensive and refined. The ylang ylang and jasmine notes feel rich and velvety, the woody notes have an alluring heft, while the musk has a sensual softness. Its woods and incense theme is presented in a contemporary niche tradition that would be familiar to those who have smelled Aedes de Venustas Eau de Parfum, Costes or 10 Corso Como. It is harmonious and well-crafted, but it does not capture my imagination. Compared to Serge Lutens Santal de Mysore, it is easier to wear, while lacking a dramatic impact. On the other hand, it stands head and shoulders above Le Labo Santal 33, given its elegant aura. While its sillage is understated, Santal Blush has an excellent tenacity.
Tom Ford Private Blend Santal Blush includes notes of ylang ylang, cumin, cinnamon bark, carrot seed, jasmine, rose, cedarwood, Australian sandalwood, oud, musk and benzoin. Private Blend collection is available at the Tom Ford boutiques, Bergdorf Goodman, Neiman Marcus, Nordstrom, and Saks5thAvenue. The Eau de Parfum–$195 (50ml), $475 (250ml).
Sample: my own acquisition