After years of waiting for Chanel's next big launch, here comes Gabrielle. "A rebel at heart…passionate and free," exalted the press release, using words like radiant, sparkling, luminous and "purely feminine." Although Coco Chanel was a talented individual and a major force in fashion, as a personality I don't find her all that appealing. But then again, it wasn't the first time the brand relied on the designer's charisma to cast a spell. Coco, one of the most baroque and elegant perfumes of the 1980s, used Gabrielle Chanel's nickname and an image of her reclining in her Coromandel-decorated salon. So what's wrong with Gabrielle?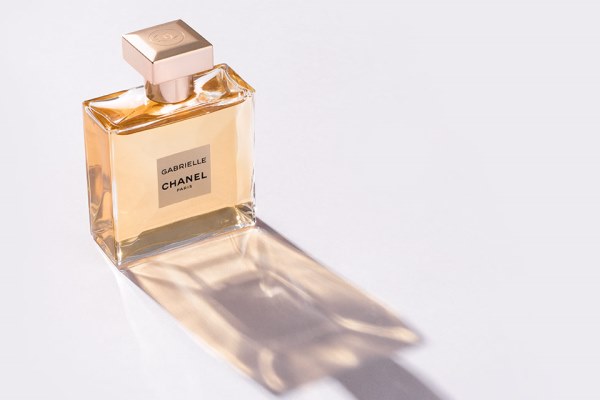 One fundamental thing. Unlike its namesake, Gabrielle the perfume doesn't aim for originality. Gabrielle is a shadow of Coco Mademoiselle, with less personality, less character and less presence. Take Coco Mademoiselle, remove all of the bling and earthy bit of patchouli, put it through a laundry cycle with white musks, garnish it with a few white florals—and here you go, Gabrielle.
The whole composition is clean and bright, with sweet orange notes accenting the rather delicate accord of white flowers. The story makes a big deal of Grasse tuberose used in Gabrielle. I've seen those fields, and they seemed rather small to me. Anyway, whatever tuberose is here, it was tamed into submission as creamy, green and pale. But within an hour, the perfume becomes warmer and creamier, with vanilla and musk filling in the spaces between orange blossom and lemony jasmine. It's an upbeat, pretty perfume, but I can't figure out what makes it a tribute to Gabrielle Coco Chanel. Opportunism, perhaps?
It pains me to dislike Gabrielle, because as a perfume house, Chanel is one of my most admired. It respects quality the way few others do—or can. It maintains its classical collection. It has enough variety within the collection to appeal to lovers of dark and complicated blends and luminous and bright ones. So I wanted to find some merit in Gabrielle. One could say that Gabrielle is to the women's market what Bleu de Chanel was to the men's. It's easy-to-like, fun, and even if derivative, well-made. Let Chanel earn money on such launches so that they can support their other, more experimental ones.
Still, I find it disappointing that big brands don't have faith in their customers and keep offering bland, identical juices (one can't even call them perfumes). So here we go, another illustration that luxury can be boring.
Nevertheless, I want to conclude on a positive note. Who should try Gabrielle? Anyone who liked Coco Mademoiselle but found it too brash. Those who enjoy light floral notes but want a bit more depth. Lovers of citrusy florals who would like something easy for daytime. It lasts quite well and has a moderate sillage, but it would be a good office perfume. And finally, die-hard fans of Chanel who collect bottles. Gabrielle's is quite fetching.
You can also take a look at Angela's review of Gabrielle on Nowsmellthis. We smelled the perfume together, and the specter of Coco Mademoiselle haunted us both. But of course, if you experienced something different, please let me know.