Persian New Year is on March 20th this year, and as always, I set up my haft seen, or Nowruz sofreh–a presentation of 7 auspicious objects that start with the Persian letter "S." I've written previously about this tradition, and why the celebration of the vernal equinox, the start of a new year, is such a meaningful custom. Nowruz is a secular holiday with Zoroastrian roots that is celebrated today by people of many different faiths not only in Iran, but in many other countries from Albania and Turkey to Afghanistan and India. Every community has its slightly different ways of marking the start of the new year, but what unites them is the celebration of life and renewal.
This year I've set up my haft seen quite early, during the last week of February, because I needed it as a reminder of hope and regeneration.
While Nowruz is an ancient holiday, haft seen is a modern addition that became popular in the last century. The seven items that start with "S" in Persian have positive significance:
Seeb (apple), representing beauty
Sabzeh (sprouts), representing rebirth
Seer (garlic), representing health
Serkeh (vinegar), representing patience and long life
Sanbol (hyacinth), representing spring
Sekeh (coins), representing prosperity
Samanu (sweet pudding made from sprouted wheat), representing fertility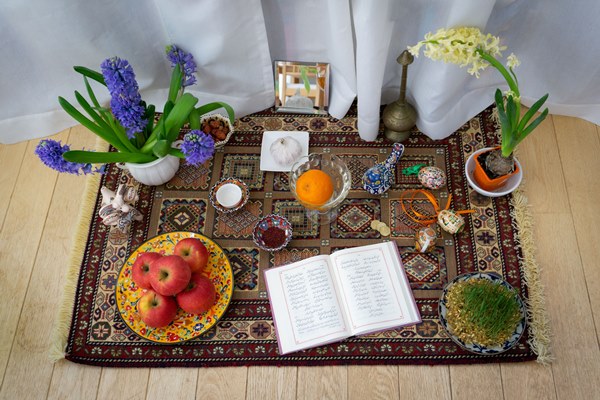 Other possibilities include sumaq, a sour red spice that in this context means patience, and senjed, Persian olives that stand for tolerance. A candle, a flask of rosewater, a book of poetry or painted eggs are also common. I decorate my haft seen with flowers, Ukrainian painted eggs, a book of Hafez's poetry, and sweets. I always include a plate of wheat sprouts, which are currently germinating in a sunny spot in my living room.
I've seen such a variety of haft seen that I can't draw any generalizations. In Iran, haft seen is a display presented on a beautiful piece of cloth, with matching plates for every item. In Azerbaijan, haft seen is part of the dinner table set up closer to the holidays and it includes a big basket of wheat sprouts holding a colorful egg for each family member.  Either way, haft seen contains items that are auspicious and meaningful to the person who is setting it up.
Nowruz is my favorite holiday of the year for its message and spirit. The Shahnameh by the 11th century poet Ferdowsi attributes the celebration of Nowruz to the mythical King Jamshid, who saved humankind from a winter that intended to kill all living things. (Jamshid is also credited with inventing perfumery, among many other things.)
Of course, Nowruz is not only about haft seen. People clean their houses, visit their relatives and friends, and exchange gifts. Yet just looking at my colorful haft seen makes all of the negative thoughts vanish from my mind. I bid goodbye to the old year and anticipate the new one full of hope, beauty and peace.
Photography by Bois de Jasmin