Neela Vermeire Mohur is a modern interpretation of a classical theme in Middle Eastern perfumery—the combination of rose with oud. It is one of a debut trio from the Neela Vermeire Creations line.  Ms. Vermeire is an Indian woman living in Paris who weaves the heritage of her native country around personal history to create perfume narratives.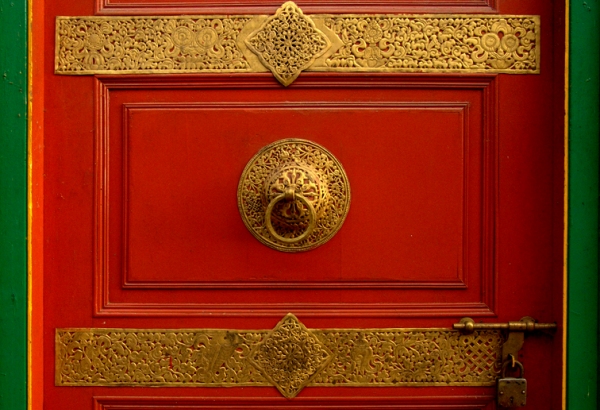 Mohur takes its name from a gold coin minted during the Mogul era in Indian history. It is influenced by the story of the empress Nur Jahan, who not-so-secretly became the power behind the throne of her opium-addicted second husband.  After her husband's death, Nur Jahan took up the art of perfumery while under what amounted to a house arrest.  Although the perfumes Nur Jahan created are lost to history, the story is not and it is this that Neela Vermeire has taken as inspiration.
The list of Mohur's notes only begins to hint at the complexity of this perfume:  cardamom, coriander, ambrette, carrot, black pepper, elemi, Turkish rose oil, jasmine, orris, hawthorn, almond milk accord, leather, sandalwood, amber, patchouli, oudh Palao from Laos, benzoin, vanilla, tonka bean. I give them all here because of the element of surprise—pastry?—that keeps Mohur entertaining.
At base level, Mohur is a floral oud with a leathery base.  That is the departure point for this excursion through a deep, shadowy rose/oud central accord that is hallmark to many Arabian fragrances, although lacking the assertively pungent nature of true Arabian attars.  From the notes, Mohur sounded monumental, a veritable Taj Majal of showpiece ingredients, so its lived-in texture and subtle nuances surprised me.  I have tried attars that were unreachable in their fungal qualities, so strange to my Western nose but so common in the Arabian market. It has taken me a few years to appreciate oud and how wonderfully well the note can be used to anchor a composition.
Oud appears immediately in Mohur's development, but it's a gently medicinal, woody oud that gives the sense of  wandering through a tour of a centuries-old palace whose furniture and floors still give rise to the scent of aged, polished wood and whose walls have absorbed the scent of a thousand bouquets of roses.  Mohur engages the wearer in powder, leather, wood, rose and what is described as an "Indian pastry" accord featuring carrot, almond milk, coriander, and cumin.  Of these, the coriander is most apparent as it embarks on a leisurely course around the powdery orris and oud. Hints of black pepper and elemi pop up every now and again as little surprises, but the overall impression is of dried rose petals and mellow wood that has been rubbed to a high patina.
Mohur settles gently into its middle stage, where the Indian pastry suddenly appears as a delectable mirage that vanishes as soon as you put a name to the carrot that has been soaked in an almond milk.  The pastry sounds incongruous and perhaps even too quirky for its own good, but it works.  The almond milk further softens the fungal oud and eventually makes the rose into an even creamier one.
While oud might seem overplayed in recent years, Mohur shows that there is still room for a cleverly executed oud fragrance.  Mohur becomes a plump and lightly soapy skin scent several hours into its wear, revealing at this stage mostly rose that has been macerated in the almond milk meant for the pastry.  Its longevity is impressive and its elegant drydown is—there is no other word for it—regal.  It's also the most distinctive rose scent to come along in ages, and well worth exploration by rose lovers.  The price is itself regal.  I know of nothing else like it, though, so I must approach it with financial caution that will probably be overridden by lust.
Neela Vermeire Creations Mohur is available from Luckyscent or directly from neelavermeire.com.
Photography by Sukanto Debnath, via flickr.com, some rights reserved.
Sample: Neela Vermeire