Why did "the feral floral," a tag line used by Cartier to describe its perfume, La Panthère, catch my attention? It's not that I'm all that keen on the smell of unwashed animals; otherwise, the camel leather belt I bought for my husband in India (now banished to the outside closet) would have satisfied that craving and more. Cartier's perfumery, on the other hand, is in the hands of talented Mathilde Laurent, and if anyone could make feral smell good, it would be her.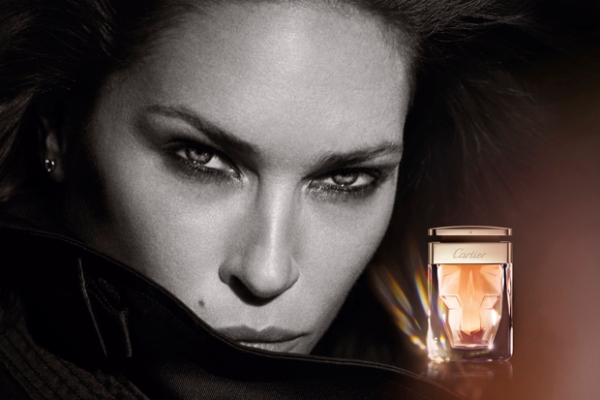 La Panthère was the nickname of Jeanne Toussaint, the flamboyant artistic director of Cartier jewelry from 1933 to 1968, who was responsible for some of the most dramatic examples of Cartier's art. Named after this tremendous character, the perfume couldn't be just another well-behaved floral, and Laurent decided on a composition based on contrasts: moss and leather; gardenias and patchouli.
The old-world glamour of La Panthère is instantly obvious. As citrus and peach give way to white petals and hints of leather, you can recognize the outlines of chypre with a capital C. There are all of the classical hallmarks that make chypres such a beguiling, if difficult, fragrance genre–complexity, surprise and some dirty bits.
The white flower part opens up slowly, while you're enjoying La Panthère's leather and musk soaked woods. But then you notice the waxy, thick petals, and just as quickly, you realize that this gardenia is already edged with brown. The earthy, mushroom-like fragrance of overripe, fully blossomed gardenias is a perfect bridge to the rest of the La Panthère  story–more leather, more woods, more musk.
Unlike my unfortunate Indian belt, the leather in Cartier's interpretation smells soft, tangy and creamy, like a new handbag from a fancy store. In the drydown, it gets softer and softer until you have a murmur of suede and patchouli. The perfume has excellent tenacity, but it's modulated enough to work during the day as well as in the evening.
La Panthère is exciting in its break from the "sexy clean" and "candy sweet" standards for most feminine launches, and it has a sophisticated character. As Robin observed in her review, it's well-made, polished and luminous. Feral might be an overstatement, however. Those who can't get enough skanky, animalic notes won't be satisfied with La Panthère. It's far too mild of a leather, and its kin are the modern chypres like Agent Provocateur, Sisley Eau du Soir,  Dior Gris Montaigne, and Perles de Lalique. It's enjoyable to wear, and its glamorous character is a pleasant change from the casual and low-key recent launches. On the other hand, if you're still getting your head around chypres and wondering why their fans go in raptures over the smell of moss, La Panthère will be a great introduction. 
Cartier La Panthère Eau de Parfum is available in 30 ($72), 50 ($103) and 75 ($135) ml at Cartier counters and boutiques.