Bois de Jasmin is turning 9 years old this spring, something that I find hard to grasp. Has it really been this long? But what I need not reassert for myself is my love of jasmine. The small white flowers don't have the Hollywood glamour of roses or the regal elegance of iris, but their scent is so luscious and complex that it has few rivals. One of the first articles I had written for Bois de Jasmin was about jasmine. I described how jasmine essence is obtained and mentioned representative jasmine perfumes but an update has been long overdue.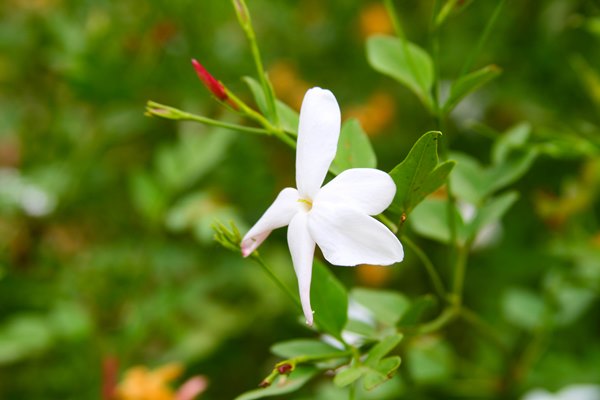 Although most jasmine used by perfumers comes from Morocco, Egypt, Italy and India, the five petaled flowers are still the symbol of the French art of perfumery. At one time the hills of Grasse in the South of France were thickly planted with jasmine, the picking of which involved the whole town. It is one of the most revered and intriguing materials in the perfumer's palette. Jasmine smells of bananas and apricot jam but also of horse sweat and mothballs. One moment you notice the springlike freshness of white petals and the next you're seduced by its hot animalic breath. Even a hint of jasmine essence can lend a seductive, voluptuous layer to the composition.
Romance aside, most perfumes named jasmine don't contain any natural jasmine essence. It's one of the most expensive ingredients, and few brands can afford it.  Depending on the origin and quality, a pound can fetch anywhere from $4,000 to $9,000. The sheer effort involved in producing jasmine essence is astounding. The flowers have to be picked by hand and processed immediately, before the rot darkens the delicate petals. Six million flowers are needed to create 1 kilogram of jasmine absolute. That means more than 800 hours of picking.*
Moreover, for a launch that's to be distributed globally, natural essences are not sustainable; there is simply not enough jasmine essence in the world to supply all of the big brands. (If you see a major launch promising natural jasmine, rose or other precious essences, it means that there is only a tiny drop to allow for the marketing claim). Even in the days when perfumers had unlimited budgets like Ernest Beaux did when he worked for Coco Chanel, jasmine wasn't used indiscriminately. Beaux used about 4% jasmine in the original formula of No 5 and only a smidgen to make a lush white bouquet in No 22 or to soften the leather in Cuir de Russie.
But the beauty of fragrance is not measured by its costs or the percentage of rare essences. It's a big misconception to think that it only takes one single synthetic to replace natural jasmine. A perfumer can create stunning jasmine with an intricate blend of natural and synthetic materials. Manmade materials can used to amplify the natural jasmine, round it out or to give it more nuances and facets.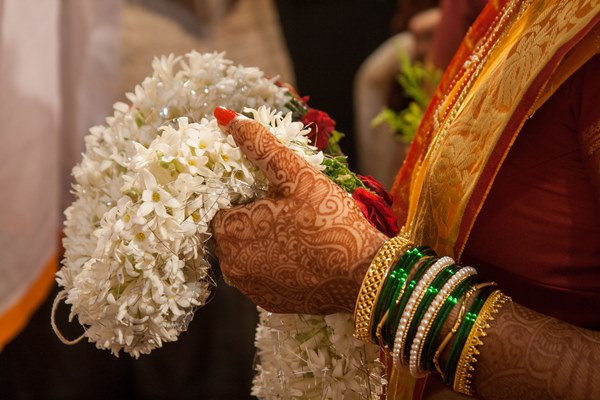 Jasmine Gold Standard
One such example–and my absolute favorite jasmine–is Serge Lutens À La Nuit. It contains only a minute dose of natural jasmine absolute, but the composition is so skillfully put together that it smells like a jasmine garland worn by an Indian bride. Opulent, rich and heady, A la Nuit recreates not just the aroma of jasmine flowers but also the ambiance of a balmy night, vines dropping star-shaped flowers on the ground and summertime indolence.
Another favorite jasmine of mine is also from Serge Lutens, but it's in a much darker register than À La Nuit. Sarrasins accents the natural leathery facet of jasmine, giving it more prominence and richness.
If you're after retro jasmine, Jean Patou Joy and Chanel No 5 extrait de parfum are the best options. No 5 parfum still uses the prized essence from Grasse in its composition, although given the tiny size of the jasmine fields in Grasse, it can't be more than a token amount. Whatever the jasmine origin, both fragrances demonstrate how jasmine can add curves and drama.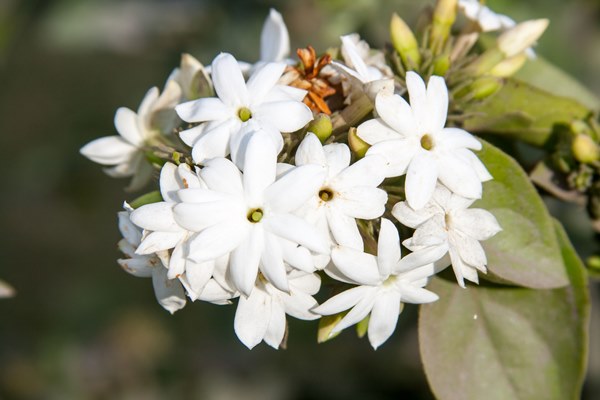 Jasmine Straight Up
Although jasmine soliflorals are less common than fragrances based around rose or tuberose, there are other great options besides No 5 and À La Nuit. Donna Karan Essence Jasmine is an excellent choice, effervescent, dewy and luminous.
For jasmine accented with green notes, I prefer Kilian's Love and Tears and Ormonde Jayne Sampaquita. They both twist the white petals around crushed leaves, but Love and Tears goes for a darker, warmer effect, while Sampaquita retains an airy brightness.
Nasomatto Nuda, Christian Dior Grand Bal, and Tom Ford Private Blend Jasmin Rouge are three well-crafted jasmine perfumes that don't overdecorate the flower and simply accent different nuances. Nuda has a lingering musky drydown, Grand Bal emphasizes the fresh apricot notes, and Jasmin Rouge darkens the flowers with a dose of balsams and incense.
Lush Lust and Yves Rocher Tendre Jasmin are two great budget jasmines, and the choice will depend on whether you want an explosion of jasmine (Lust) or a gauzy veil (Tendre Jasmin). More than the perfumes themselves, I prefer the body products that accompany them. A morning shower with Lust soap is the best start of a day.
Jasmine Remixed
The most interesting effects can be created when jasmine is blended with other notes, while remaining prominent enough to stand out. Because jasmine is lush and sensual, it is usually treated in an oriental context and embellished with other exotic notes. The ravishing effect of Annick Goutal Songes is achieved by weaving a ribbon of sweet jasmine through a dark blend of sandalwood and vanilla. The perfume is at once ethereal and intoxicating.
If you require tropical, heady and sultry, try Guerlain Mahora/Mayotte. It contains a whopping dose of natural jasmine, and also every single white flower in the perfumer's palette, so consider yourself warned.
Another jasmine given an opulent treatment is Thierry Mugler Alien. Here the white flowers are set into a frame of amber, vanilla and musk, and the result is heady to the point of being overwhelming. I can't stand it, but even so, I admit that it's an excellent, quality perfume, and I would be remiss not to include it here. 
With Ozbek by Rifat Ozbek you can enjoy the smolder of jasmine without worrying about your perfume causing asthma attacks in others. Ozbek blends jasmine into a sheer accord of peach, hyacinth and freesia and wraps it up in musk. Another mild oriental jasmine is The Different Company's Jasmin de Nuit. It spices up jasmine with star anise and cardamom, turning the blossoms into a Middle Eastern inspired confection.
One of the most surprising jasmine twists is Etat Libre d'Orange Jasmin et Cigarette. Instead of leather, musk or spice, it uses an ashy, tobacco note to give jasmine a smoky aura. It's a red lipstick and stiletto heels perfume, with a dose of retro glamour.
Finally, for a remixed jasmine, I like Estée Lauder's Jasmine White Moss. It's an elegant blend in the spirit of Chanel Cristalle, but with a richer white floral layer shining through the mosaic of green leaves, orange blossom, and vetiver.
Not My Idea of Jasmine
To give you a sense of what I consider a good jasmine perfume, here are some examples of fragrances that aren't my idea of jasmine. Either they smell like nail polish remover (Floris Night Scented Jasmine) or don't deliver on their jasmine promise (Creed's Jasmin Imperatrice Eugenie). Le Labo's Jasmin 17 is one of the latter; it's really an orange blossom (and an overpriced one at that).
Montale Jasmin Full and Creed Jasmal have an excellent start, but peter out before they evoke the fantasy of jasmine garlands. Gelsomino by Acqua di Parma likewise has a change of heart after a promising start and dries down as sweaty and sour. Miller Harris Le Jasmin can't decide what it wants to be, but it never manages to convince me that it's a jasmine. The same goes for Miller Harris Jasmin Verte and Guerlain Aqua Allegoria Jasminora.
Aerin Ikat Jasmine is a wallflower, though the quality is fairly good and if you like mild green jasmines, it's a decent option. Armani Privé Éclat de Jasmin and Bvlgari Jasmin Noir are luminous and bright, but neither satisfies my jasmine cravings. As you can see, I'm not picky about jasmine at all.
More jasmine perfumes to consider: Bulgari Voile de Jasmin, Le Jardin Retrouvé Jasmin, Keiko Mecheri Jasmine, Molinard Jasmin, L'Occitane Jasmin & Bergamote, Mâitre Parfumeur et Gantier La Reine Margot, Fresh Pink Jasmine, Carthusia Gelsomino di Capri, and Santa Maria Novella Gelsomino. I haven't tried all of them, so if you have, I would love to hear your thoughts.
*According to IFF's Laboratoire Monique Rémy.
What are your favorite jasmine perfumes? (And if you dislike jasmine, please don't hold back either! I know that it's a somewhat polarizing note and is not to everyone's tastes).
Photography by Bois de Jasmin (1: jasmine grandiflorum from Grasse; 3: jasmine sambac from India; the jasmine in photos 2 and 4 is not used in perfumery but it has a wonderful fruity-green scent).