Guerlain Nahéma was inspired by the French actress Catherine Deneuve. Perfumer Jean-Paul Guerlain explained to Elle Magazine that when he saw her in the film Benjamin ou Les mémoires d'un puceau, Deneuve enthralled him. "She appeared in a gilded cage scattered with roses… She was wearing a dress of white silk, and her hair was loose and ruffled like a golden halo — absolutely breathtaking."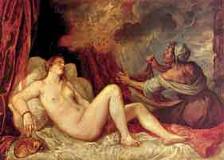 Nahéma, introduced in 1979, is likewise stunning–a voluptuous blend of rose, plum and ylang ylang, with dark accents of sandalwood and musk. It is a bold and dramatic fragrance foreshadowing the generation of big perfumes that would embody the glam & glitz of the 1980s–Dior Poison, Yves Saint Laurent Paris, Giorgio. Unfortunately, Nahéma arrived on the scene too early to appeal to the general public, and it flopped so badly that Guerlain had to sell a part of its real estate to keep the company afloat. Yet, even today Jean-Paul Guerlain names it as his most distinctive and original creation.
While Nahéma was toned down somewhat after its initial launch, it was not discontinued. Even today it can be found at the Guerlain counter, and it should not be missed. This sensual oriental perfume explores a brilliant combination of cool, watery hyacinth and rich-as-chocolate roses, with a haunting undercurrent of vanilla, dark woods and amber.
Nahéma often makes me think of Titian's golden haired beauties. If the great master's Danae is wearing a fragrance, it has to be something opulent and rich like Nahéma. The painting depicts a voluptuous woman whose pearly white flesh is gleaming on the canvas. Her golden hair is streaming down her shoulders in its resplendent glory. The white arm with a ruby bracelet is caressing a small dog, whilst her gaze is directed towards the ceiling as Zeus, her lover, is descending into her chamber in the guise of golden rain. The eager expectation and sheer passion is captured masterfully by Titian and that is a befitting setting for Nahéma.
I have this fragrance in the extrait de parfum and find it warmer and richer than both the parfum de toilette and the eau de toilette versions.
On Reformulation (added 12/17/10):
Nahéma went through several reformulations, but the latest one is the one I like the most. The lush floral accord of rose, ylang ylang and jasmine has the same complexity and dramatic aura as that of my mid 1980s parfum. There is a stronger green note in Nahéma now, and the fruity-rose richness of damascones has been attenuated. However, overall, it is a splendid fragrance with a great sillage and tenacity.
Painting: abcgallery.com.