Take Thierry Mugler Angel and dilute it with sheer, lemony jasmine till all you have left are the pastel colored outlines of the original gourmand patchouli. Shake it up, label Yves Saint Laurent, and you have Manifesto! I complained that Lancôme La Vie Est Belle is unexciting, but next to Manifesto it's downright avant-garde.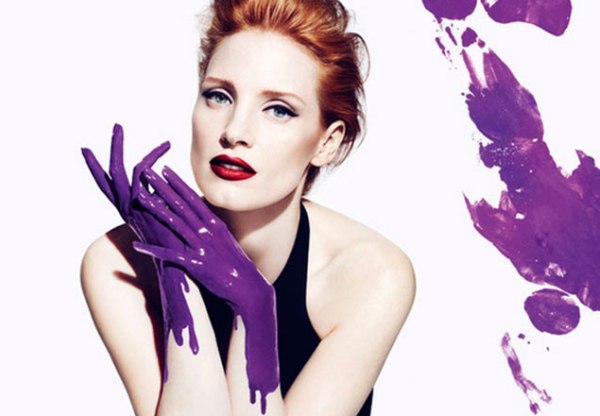 My qualm with Manifesto is not that it's a bad perfume, but that it doesn't have much character. Smell it once, smell it ten times, I guarantee that you won't remember it. Of course, not every single fragrance needs to make a statement–mild, unobtrusive blends do have their place, but Manifesto could be inside any bottle: the latest celebrity launch, Escada, Calvin Klein, Coty, Avon or even Bath and Body Works. It's not entirely clear what makes this perfume Yves Saint Laurent. It doesn't have the bravura of Opium nor the voluptuous beauty of Paris. It lacks the sensuality of Cinéma or the moodiness of Nu. It smells trendy, like a scent you've noticed  many times before at the mall or inside a crowded subway car–a cotton candy laced patchouli, with a soft blur of flowers.
Like most big launches, I think that this must have started with a great idea before it was market tested to death. The top notes are sweet and citrusy, but the elegant way in which the tart berries play up against bergamot is very pretty. Perfumer Loc Dong, who worked on Manifesto with Anne Flipo, is known for his masterful fruity accords, and here you get a glimpse of his deft hand.
The floral notes are also pretty, with the green rose harmoniously woven into the soft jasmine. This lasts but for a brief moment before Manifesto hits the caramelized sugar layer. The delicate floral accords vanish, and the drydown lingers as a nutty-woody cloud of mild patchouli, toasted almonds and vanilla. Manifesto has modest tenacity when compared to most gourmand patchouli fragrances, and a couple of hours later it becomes even softer and mellower.
Manifesto is not without its merits–it's an understated perfume that won't make your co-workers file demands for a "fragrance-free" environment. You, however, can do better. If you like gourmand patchouli, Chanel Coco Noir is a more elegant and refined option, and Guerlain Shalimar Parfum Initial is a playful, chic variation. Or go for Prada Eau de Parfum, which smells like chocolate and mossy roots.  If you feel like a sheer fruity patchouli that could easily transition from day to evening, try Chanel Coco Mademoiselle body oil.
Yves Saint Laurent Manifesto includes notes of green leaves, bergamot, black currant, jasmine, lily of the valley, cedar, sandalwood, vanilla, and tonka bean. Available from major department stores.
Sample: my own acquisition