One autumn afternoon as I was walking home through a park and wading slowly through the piles of golden leaves, I wondered if there is a perfume in my collection that could match this serene and yet exhilarating atmosphere. Of course, I have my beloved Guerlain Mitsouko and Chanel Bois des Iles, which are some of the most quintessentially autumnal scents, but Mitsouko is too damp and plush, while Bois des Iles is too austere and cool. I wanted a perfume that smelled sunlit and bright, warm and bracing, with a hint of nutty sweetness from burnished leaves.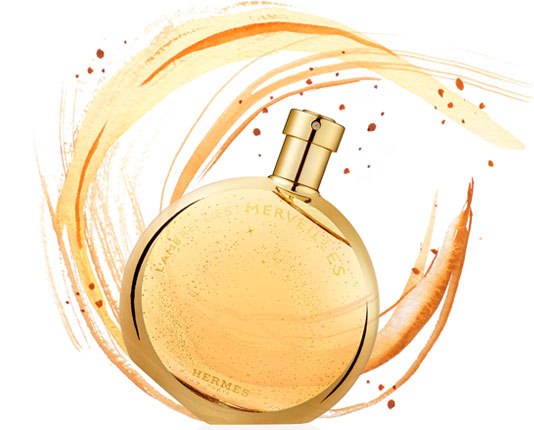 When I smelled Hermès L'Ambre des Merveilles after one such walk, I discovered with a surprise that it captured part of my golden autumnal fantasy. It's a fragrance of woods, amber and vanilla, but L'Ambre des Merveilles avoids heavy sweetness and instead has plenty of luminosity. You can almost see the sun glittering on the crimson maple leaves as you smell it.
At first, I was apprehensive about trying L'Ambre des Merveilles, a sequel perfume to the stunning Eau des Merveilles. The original was created by perfumers Ralf Schwieger and Nathalie Feisthauer, and to my mind, it's still one of the best ambers on the market–salty and sweet, rich and effervescent. I don't see how it's possible to improve on it.
As it turns out, L'Ambre des Merveilles doesn't really try to match Eau des Merveilles.  Jean-Claude Ellena, the current Hermès in-house perfumer, presents a variation on the original's amber theme, but it has a completely different scent and character. While the original is salty, L'Ambre has a pronounced sweet edge. It's less of a statement perfume, but it's also easier to wear.
The vivid top notes of mandarin accent the sweet amber, which is prominent from top to bottom. Amber is a star note here, but layers of cedarwood give the fragrance a sharp, bright tone. Stripped of its familiar earthy tones, patchouli is rendered woody and dark–a perfect foil to the crisp amber notes. It takes you only a short while to realize that the closest fragrances to L'Ambre des Merveilles are not ambers, but rather woods. It reminded me of a smoother, more voluptuous Estée Lauder Sensuous, while its delicate violet note hinted at Serge Lutens Bois Oriental.
Like most woods, L'Ambre des Merveilles has an elegant character, and it would work well both as a daytime and an evening perfume. It has good tenacity on my skin, lasting for the entire day with 2 generous sprays, but Robin, who also enjoyed it, found it less long lasting. Therefore, definitely test thoroughly before buying. If it works on you, you will discover that it leaves a beautiful trail as it clings to your skin and clothes. A portable ray of sun, as it were.
Hermès L'Ambre des Merveilles Eau de Parfum includes notes of amber, labdanum, vanilla and patchouli. It's available from all Hermès counters (Bergdorf Goodman, Neiman Marcus, Barney's) and boutiques. 50 and 100 ml spray bottles.
Sample: my own acquisition