Yesterday, when reviewing Valentino Valentina Acqua Floreale, Kenzo Amour I Love You, and Juicy Couture La La, I promised three more sheer spring roses.  The fragrances chosen today, Cartier Eau de Cartier Goutte de Rose, Balenciaga L'Eau Rose, and Van Cleef et Arpels Féerie Spring Blossom set rose into a frame of woods and amber. In contrast to yesterday's selection, this group is crisp and sharp, rather than soft and romantic.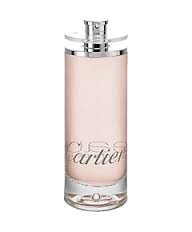 Cartier Eau de Cartier Goutte de Rose
Quality is never an issue at Cartier, and with Eau de Cartier Goutte de Rose you're getting a well-made woody rose. The floral accord that feels rich despite being crystalline and luminous is superimposed on the dry amber base. The original Eau de Cartier is a peppery cedarwood with a wistful leafy note, and Eau de Cartier Goutte de Rose retraces some of its austere form. A touch of sweetness from rose is an interesting touch. Even vanilla feels crisp and crunchy in this perfume.  Of course, you can find many great amber roses at a lower price point, such as the fabulous Yves Rocher Rose Absolu, but Eau de Cartier Goutte de Rose is a worthwhile option.
Balenciaga L'Eau Rose
The original Balenciaga Paris was a translucent mossy violet, with a tender, understated presence. L'Eau Rose puts some sparkle in the original with berries and citrus rind and gives the rest of the composition a coy character. Despite the presence of fruity notes, L'Eau Rose is not overly sweet. It retains a gauzy, weightless character well into its lingering drydown of woods and moss.It's radiant without being flashy and it is sophisticated without being high-maintenance. On the other hand, I smell Florabotanica and wonder why another sheer rose is necessary in Balenciaga's collection.
Van Cleef et Arpels Féerie Spring Blossom
Féerie Spring Blossom is one of the least exciting perfumes in this group, but the packaging is striking. As you would expect from the jewelry house of Van Cleef et Arpels, renowned for their expertise in precious stones, every detail of the faceted bottle and the flower shaped cap is well-thought out. It's a shame that Féerie Spring Blossom, designed as a take on the original sumptuous Féerie, is so predictable.
The rose is paired with the brightness of lychee and pink pepper–we've smelled it all before many times, and the initial honeyed impression soon softens to a fresh peony. If it maintained at least the same amount of sparkle and zest, I would have liked it better, but the drydown is both limpid and sharp, a feat in itself. Not bad, but the cute bottle deserves much better.
Speaking of better, what are your favorite fresh rose fragrances?
Cartier, Balenciaga and Van Cleef et Arples perfumes are available at the department stores, including Bergdorf Goodman and Neiman Marcus.