I divide the contemporary fragrance world into the children of Thierry Mugler Angel and the children of Dolce & Gabbana Light Blue? Well, the Angel clan can welcome a new sibling, Viktor & Rolf Bonbon. A textbook gourmand, Bonbon is exclusively for the lovers of sweet. If you like your cotton candy with a dose of peach syrup, then you're in  for a treat. If not, then you can count on a headache.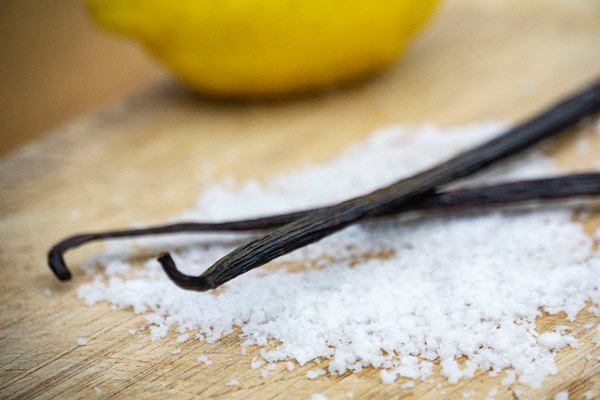 When Angel was launched in 1993, its caramel and vanilla overdose was so novel that it at once attracted and repelled. "It's not a perfume, it's a flavor blend," said some perfumers. "Unsophisticated, vulgar, crude," said others. But after a slow start, Angel proved that it had much more than sweetness and that it could create a new family of perfumes. Today, over-the-top vanilla and caramel are nothing new, and as Bonbon demonstrates, they make a commercial, easy to like scent. We've been well-trained by Angel.
Viktor & Rolf prides itself on edgy fashions, but there is nothing avant-garde about its fragrances. The first one, Flowerbomb, was a clone of Angel, and Bonbon takes after the big sibling as well as Prada Candy. No surprises here, given the name, right? Candy, despite its lighthearted character and edible sweetness, is a shape-shifter, playing up the dark heft of benzoin resin against the familiar caramelizing sugar accord. It's rich but translucent, sweet but not cloying. It was a huge hit.
The brief to Cecile Matton and Serge Majoullier, the perfumers who worked on Bonbon, must have included a reference to Candy, because after the sweet tangerine top notes, Bonbon covers you in a similar layer of caramel. It smells like a cotton candy stand crossed with a vat of crème brûlée, and while in Candy, the idea is sheer and subtle, in Bonbon, you get no respite. Next comes a baked peach that gives Bonbon a creamy, heavy accent. Even the jasmine heart seems sugary and caramelized.
I don't shy away from sweet perfumes, which can be a fun indulgence, and Aquolina Pink Sugar and Lolita Lempicka are mainstays in my wardrobe, but Bonbon turns me off. In comparison to Angel and some other big gourmands, it has little character and hardly anything in the way of memorable effect. It wears well and lingers for hours, but its sillage is indistinguishable from other sweet, candy-like perfumes.
And it's expensive. I agree with Robin, who mentions in her review that similar options like Juicy Couture Viva La Juicy, Britney Spears Fantasy, or Dolce & Gabbana The One Desire will satisfy the same craving and go easier on the wallet. If your love for sweetness is bigger than your budget, just go for Pink Sugar and indulge without guilt.
Viktor & Rolf Bonbon Eau de Parfum includes notes of caramel, mandarin, orange, peach, orange blossom, jasmine, cedar, guaiac wood, sandalwood and amber. It is available in 30, 50 ($115) and 90 ($165) ml Eau de Parfum.